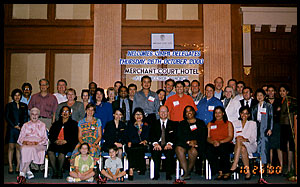 CIMPA is unlike most meeting planning organizations. It is an online association of buyers and sellers of meeting and travel products and services with a mission.
The mission of CIMPA is to connect people of different cultures through meetings, travel and the internet for the purpose of promoting understanding, tolerance and friendships.
By being connected to each other and to resources on the internet, members of this community will more easily share tools, information and ideas to plan cost-effective and successful meetings, travel and incentives.
CIMPA takes it for granted that state-of-the-art tools and methodology are important for efficient travel and meetings. But its focus is on results. We focus on achieving meeting objectives and allowing attendees to experience the world and bond with its people. This is probably the most significant difference in philosophy between CIMPA and other meeting planning organizations.
We are attempting to change the rules of the game and take meetings to the next level.
We believe that meeting planners and participants have the power to reach out, help change peoples' lives and help promote peace in the world. We believe this can be achieved one friendship at a time. We believe that meeting attendees and travelers are social bees in that they promote cross-pollination of ideas as they travel from place to place. Cross-pollination produces hybrid vigor and productivity. Self-pollination of those who stay stagnant in one place produces abnormalities, hence low productivity and inferior genetic quality. Our mission is to launch as many social bees as possible in the world.
GOING VIRTUAL
We were not always virtual. When we were founded in 1982 by a small academic group located in various countries, we started as a regular small association. But as globalization and the popularity of the internet enabled membership associations to re-think their mission and technology strategies and deliver new forms of value to members, we decided to go virtual. Today people have less free time to devote to traditional association activities. We are available 24 hours a day, 7 days a week.
CIMPA members can participate in any activity or meeting at any time wherever people are awake. In this association, distance is irrelevant and borders are non-existent. Over 3000 members are in 32 countries in 5 continents. Collectively, the planner members of CIMPA plan over 100,000 meetings annually. We create a level playing field for all meeting and incentive professionals - regardless of color, race, politics, size or resources. This is a genuinely diverse organization. Everyone has the opportunity to help build and lead the group. Virtual associations are constantly challenged with the increasingly complex technology and the ever-growing number of alternative solutions. CIMPA tries to meet this challenge at its annual International Technology, Meetings and Incentives Conference held all over the world.
WHO MAY JOIN CIMPA
Our members are association executives, show organizers, meeting planners, incentive organizers, tour operators, travel agents, seminar organizers, trainers, speakers, representatives from technology companies, tourist boards, convention bureaus, hotels, airlines, car rental companies, cruise ships, tourist attractions, vendors of convention badges, portfolios and other supplies and interested persons.